Dawn of the Dead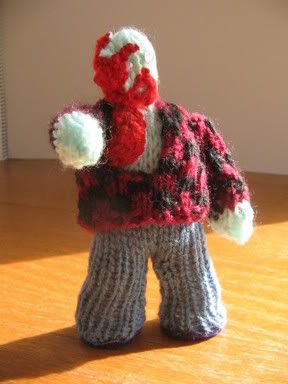 the knitted version. Hannah, over at The Electric Biscuit" LOVES the movie "Dawn of the Living Dead."
Hell, I should probably marry this movie. I love everything about it - the characters, the library music/Italian prog rock soundtrack, the setting, the story and (of course!) the zombies. I love it because underneath all that cheesy comic-book action, gore and slapstick humour lies an insightful and thought provoking subtext of class war, conformity and consumerism. Zombies, eh? They're us, and we're them. When the worst comes to the worst what we should really fear is ourselves, and each other. I think that's what Jerry Springer was really trying say.
Hannah also loves to knit. Put those two loves together and you have a classic blog entry! (and possible Holiday Gifts Ideas for those horror fans on your "
Naughty
or Nice" list.)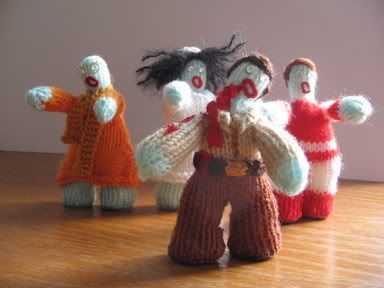 However, these fabulous creations might not be allowed in Pittsburgh, PA, because apparently the city is not prepared for Zombie infiltration.
A zombie-preparedness study, commissioned by Pittsburgh Mayor Tom Murphy and released Monday, indicates that the city could easily succumb to a devastating zombie attack. Insufficient emergency-management-personneltraining and poorly conceived undead-defense measures have left the city at great risk for all-out destruction at the hands of the living dead, according to the Zombie Preparedness Institute. (The Onion)
(Haunted Vampire love bites to
Matt of the Tattered Coat
)